Sport Rehabilitator, Jon White, was successfully running three clinics and employing five members of staff when COVID-19 occurred.

Jon spoke to us about his first hand experiences of continuing to operate during lockdown and the fascinating insight into how he
attracted patients from different countries.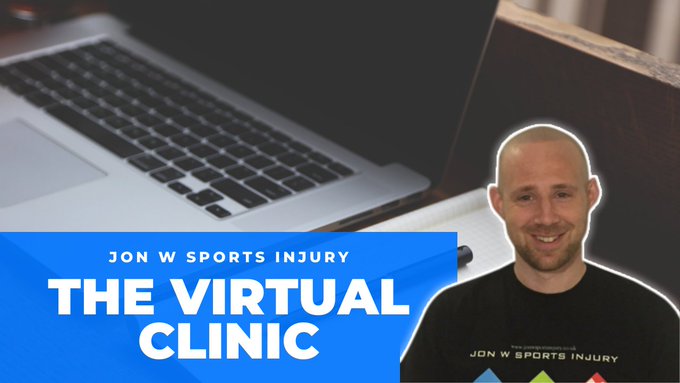 The origins of my clinic

I started my first clinic as a newly graduated Sports Rehabilitator in 2007. I had passion, enthusiasm, energy and couldn't wait to get started and my doors opened…..I got no clients. I must admit I panicked and took a full time job in ergonomics but informed my employers that I wanted to keep my clinic going.
I had developed a huge inferiority complex! I wrongly felt that I may be inferior in my skills and services in comparison to some other specialities in our industry. I was delighted to find that I could not have been more wrong.
I visited clinics for treatment by practitioners from other governing bodies with the aim to learn from them. I did learn a very important lesson and that was how amazing our skills are and that I had so much to give to my community.
"I had more skills, more techniques and more passion to help clients than any of the clinics I had visited."
Developing my vision
I was disappointed by the service I received as a patient. I decided to try to build the finest clinic I could for my community. I wanted to offer the best possible service from first contact to the end of treatment and care and beyond. Ultimately I put a series of procedures in place, systems that allowed me to offer superior patient care and provide our own personality and passion for every patient.
The results
We have successfully grown our business to clinics in three locations, employing five sports therapists and a six figure revenue business whilst keeping all appointments under £50 for an hour and £27 for 30 mins. I have also maintained my full time job alongside.
COVID-19
Over the last decade we grew by 20 to 30% each year, things were looking great! Then the pandemic struck. We had to close our doors overnight.

I found myself back at 2007, intimidated by the thought of transitioning to a virtual business. My inferiority complex returned. I knew others were doing it but could we do it? The biggest question was how could I both attract and heal patients without my hands? We are a manual clinic and have built our reputation for offering excellent hands-on service.
I knew I had the right systems in place to 'give us a chance'. Our booking system could link to an online platform, our exercise prescription software could provide personalised rehabilitation programs and our 'attraction' and 'follow up' systems were still in motion.
Focussing on the positives
I knew I had to shift my mindset to ignore the negatives and focus on the positives. As a clinic we had only ever seen people who could travel to our clinics. Suddenly by opening a virtual clinic the world was our oyster.
Content based marketing
I believe strongly in content based marketing. I set about trying to show the world my knowledge and enthusiasm. In order to truly attract patients they need to see our expertise, energy and enthusiasm. I am a passionate long distance runner and as a result have a lot of running clients.
I started to provide as much free content as I could to running groups on social media. I have built eBooks, video content and blogs that I could share with these groups, one running group on Facebook (The Running Community) really liked my content and approached me about doing more.
Since lockdown I have completed weekly Facebook live sessions for The Running Community Facebook group to help develop their running skills, comprising of webinars, stretching sessions, self-massage sessions and live Q and A's in topics to help develop their running skills.
The sessions allowed us to have a truly global reach and led to me receiving inquiries from around the world.
Reaching a Global Audience
I provided free valuable content to the running group as I believe it important not to be 'salesy', the content led to inquiries from people who wanted a more detailed discussion, some of which have become patients to our virtual clinic. I have completed virtual appointments in Australia, America, Scotland, Wales and England.
I repeated this model to further potential referral networks. I offered free live Q and A sessions to local Gyms and personal trainers, explaining that these sessions would benefit them as the focus would be on keeping their clients training and how to avoid injury when training online.
I tried to produce as much content as I could and launched our long awaited YouTube channel. I then turned to our database as I believe building and talking to your contacts list is vital. I distributed weekly updates sharing latest news and videos I produced, I also asked them for questions they would like answered and produced content for the responses.
We successfully ran a virtual clinic through a combination of our standard tools – search engine optimisation and referral networks, live presentations across social media aimed at our 'perfect patients' and more structured weekly communication with helpful videos to our client base.
The biggest plus for me personally is the challenge it has provided me to adapt my skills, after twelve years I had come to rely on my hands as my 'go to method'. Suddenly I could not use them.  However it allowed me to use the knowledge I had in a different way, I got fantastic outcomes and results and I didn't even touch the person. The virtual clinic showed me that our hands-on skills were just a small part of the skill set we have to help people.
The Negatives
There was of course a huge reduction in appointment numbers. It would be wrong to say it was business as usual. We would typically complete over 100 appointments a week, it dropped to 15-20. However, there was a familiar pattern – again our patients' number increased by 20-30% month on month, for the three months that we were a solely virtual clinic. There were also bigger benefits still to come.
We decided to reopen our busiest clinic on June 15th, following fantastic guidance provided by BASRaT. As a result, virtual appointments were still initially offered as appointments and we adapted our systems to be able to complete face to face consultations and adopt the principles that were required by our insurers.
We are approaching the first full month of being reopen and I am thrilled that we are back to 80% of appointment numbers compared to pre COVID-19 times. If we had all clinics open I am confident this would be least 100%.

We have surveyed our clients again and nearly everybody said they felt compelled to return to us due to the communication we had provided and the fact that we were updating them through virtual means.
The Future
None of us know what the future holds. However, there is one thing I am certain of - our virtual clinic is here to stay. I say this because it has so many benefits for our clinics:
- We have a global reach.
- Patients who are unable to attend due to shielding, vulnerable loved ones or busy lives, can join us virtually.  
- The virtual clinic allows us to work one on one with a client where the sole focus is on the technique and performance of the rehabilitation program rather than hands on manual work. We have always wanted to have a gym facility to discuss exercise prescription rather than just manual therapy.
- Team communication. Previously it was difficult to find a time to meet with my clinic managers in the same location, we now conduct all
team meets virtually and love the increased communication.
- Helping other therapists. It is frustrating to see fantastic therapists with skills that can change peoples' lives, either leave the industry or be undervalued by people with a focus on profit. I want to help therapists to speedily learn what has taken me twelve years learn. I now offer coaching to either develop therapists' clinics using our systems at Jon W Sports Injury clinics or to form their own clinical systems. I believe we have the skills to produce fantastic clinics and this can be achieved either full time or as a side venture alongside other employment. My coaching is delivered virtually and through online webinars, discusses the systems that help us reach more, it can truly make a difference. 
It would be wrong to say the last few months have not caused some stress, however, I have learnt a lot and I am confident that this knowledge will leave us in a better place going forwards. It would not have been possible without the support and guidance of BASRAT who have excelled during this period.
If anyone has any questions or would like to discuss this further please feel free to reach out to me at jon@jonwsportsinjury.co.uk
or via our website at www.jonwsportsinjury.co.uk
Read more about BASRaT and Sport Rehabilitation.